YA Paranormal Activity Blog Hop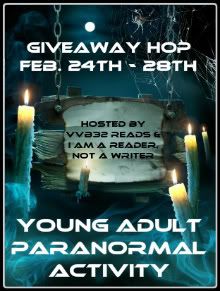 Hi everyone! Thanks for stopping by my blog on this great blog hop, celebrating all things YA paranormal! Mad props to
I Am A Reader, Not A Writer
and
vvb32reads
for hosting such a great party!
I've got a bunch of goodies for you to win. I've got 4 ebook bundles to give away below including two of my titles and those from my fellow
Indelibles
and
DarkSide Publishing
sisters.
The contest is simple -- leave your name and an email contact below in the comments. I will choose 4 winners at random and contact them with their prize pack!
It is not required, but if you'd like to, feel free to follow the blog or follow me on
Facebook
. Don't be a stranger! If you're a book blogger, feel free to fill out my
Book Blogger Review
form to request free Book Blogger copies of my titles to review.
Check out these awesome prizes!
Paranormal Pack #1
The Secret of Spruce Knoll by Heather McCorkle
Open Minds by Susan Kaye Quinn
The Soulkeepers by G.P. Ching
Paranormal Pack #2
Bloody Little Secrets by Karly Kirkpatrick
Beautiful Demons (Book 1) by Sarra Cannon
Inner Demons (Book 2) by Sarra Cannon
Paranormal Pack #3
Into the Shadows by Karly Kirkpatrick
Tangled Tides by Karen Amanda Hooper
Bound by C.K. Bryant
Paranormal Pack #4
How to Date an Alien by Magan Vernon
Glimpse by Stacey Wallace Benefiel